Newswire
Caldwell Fellows Philanthropy Spotlight
Allison '05 & '07 and David Anderson '05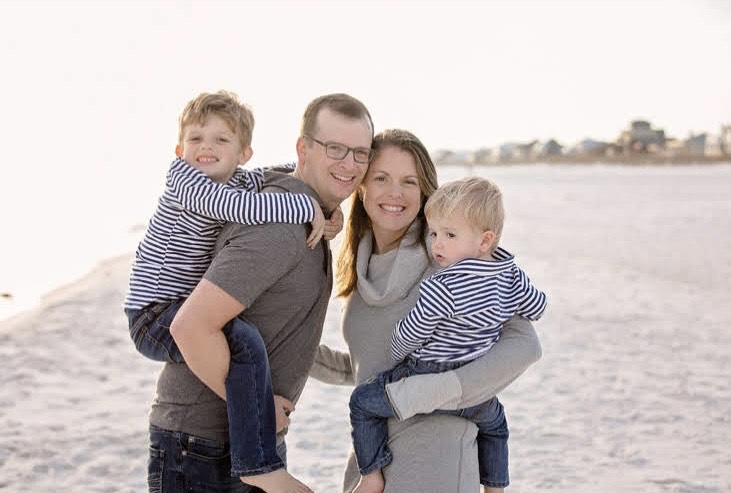 The Caldwell Fellows Program is excited to celebrate the establishment of a new endowment by two of our alumni with a unique story. Allison Anderson (BS Biomedical Engineering '05; MS Industrial Engineering '07) and David Anderson (BS Mechanical Engineering '05) met during their time in the Caldwell Fellows Program. It had such a significant impact on their lives, that they decided to establish a new named fund that will honor this impact and benefit students in the program. Learn more about their journey below.
While at NC State, Allison was a varsity swimmer and is now a Senior Manager of Electrophysiology Clinical Trials at Boston Scientific. Her husband, David, is currently a technical consultant specializing in forensic failure analysis, intellectual property, and technology development at Exponent. The couple met as undergraduates in the Caldwell Fellows Program and married shortly after graduation in 2005. David was awarded a National Defense Science and Engineering Graduate Fellowship while earning his Ph.D. in Mechanical Engineering at the Georgia Institute of Technology. Allison and David are lifetime members of the NC State Alumni Association and currently live in Atlanta, GA with their two sons Luke and Bryce.  
David and Allison credit the Caldwell Fellows Program with instilling in them an adventurous spirit and a passion for personal development. Both took advantage of program resources to travel internationally for Alternative Spring Break Habitat for Humanity trips and each participated in the Caldwell Fellows Wilderness Expedition. The couple has continued to integrate this spirit of adventure and self-discovery even after graduating from the program. In 2010, when David left his engineering job at Caterpillar to attend graduate school, they decided to sell their house, leave their jobs early, and travel around the world for three months. The idea and motivation for this journey began with encouragement from their Caldwell Fellows network. Many of the friendships the Andersons formed during their time in the Caldwell Fellows Program remain among their closest today. Allison and David hope that their financial contribution will support future Caldwell Fellows to embark on a similar adventurous journey of lifelong learning and personal development.
Thank you David and Allison for your support in making the work of the Caldwell Fellows Program possible.
If you would be interested in learning more about how you can contribute to the vitality of the Caldwell Fellows Program, please visit our giving page or contact Lauren Welch, the Director of Development for the Caldwell Fellows.