Profiles
Spotlight on our Alumni: Sharing Perspectives
The Caldwell Fellows Program hosts opportunities for current students to hear from our alumni.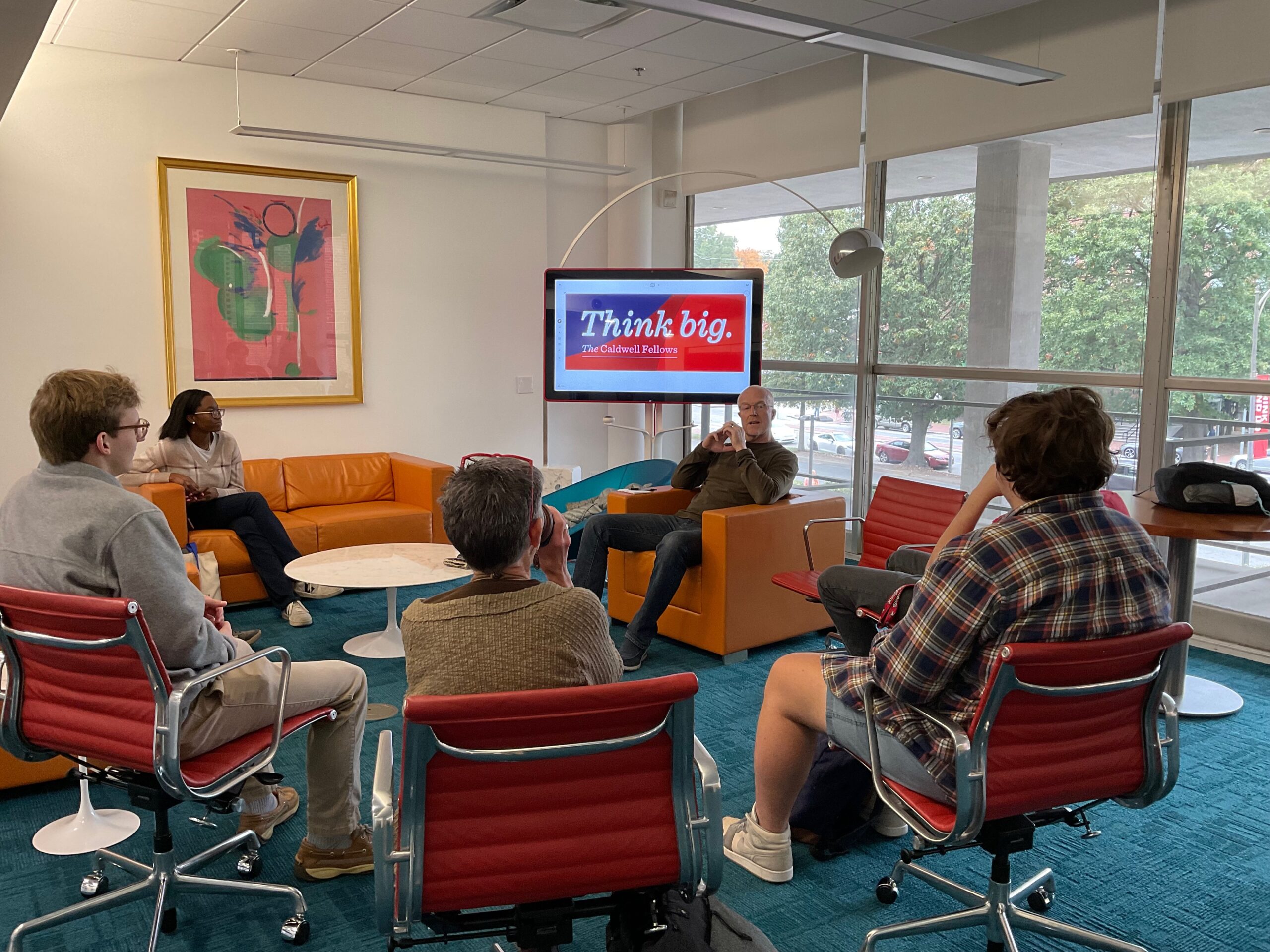 Recently the Caldwell Fellows Program hosted alumnus David Shaw for an afternoon and evening of conversation and connection. David is a graduate of the class of 1987 with a degree in Chemical Engineering. He currently lives with his family and practices competitive law in Washington state for several start-up medical device companies, and spent his time with us in small group conversations on October 26.
After lunch with Dr. Gerald Hawkins, former Caldwell Fellows Director, and Dr. Janice Odom, current Caldwell Fellows Director, David joined the first session at the Hill Library, where he connected with a small group of current Caldwell Fellows to share his perspectives gained over the 35 years since graduating NC State. His key insights included reminding us all not to take ourselves too seriously, to learn to embrace the lessons of failure in order to increase our chances of reaching our goals, to recognize that graduation from NC State is only the beginning of our journey of learning in life, to become comfortable pushing ourselves into real discomfort to truly realize what we are capable of, both physically and mentally, and to keep in mind that life balance is a dynamic process that shifts based on the situations we find ourselves in. David's unique approach to seeking balance comes from decades of wilderness experience across the world and setting a series of challenges for himself outside the office that reinforced the skills needed to live an experientially rich life, both personally and professionally. And with as short as life can sometimes be, he also encouraged each of us to take time to pick our heads up and think about the bigger picture from time to time, not just the day-to-day challenges that we're each clearly faced with, in order to confirm the path we're on is the one we want to be on, and to consider a change if it isn't.
David also discussed the importance of practicing and learning to set professional boundaries for oneself early in career development, to not driving oneself to only chase financial gain at every turn, and to creating for ourselves our own personal life mold rather than adapting to someone else's views of what our life should be. His examples included taking a series of three-month sabbaticals in the early stages of his career (before starting his first job out of undergrad; between the conclusion of his federal court clerkship and starting to practice law; during his third year of practicing as a young attorney). In those 3-month periods and many others, he traveled and experienced the outdoors in ways that colored and shaped his perspectives on the importance of life balance and the true extent of his ability to overcome meaningful adversity. From those experiences, he came to understand the importance of taking time away from work in order to become more effective at work, seeking truly restorative practices, and setting healthy boundaries. He continues these practices today with his family and others in his community and jumped at the opportunity to share his thoughts with the current crop of Fellows, in case his perspectives might resonate with others.  
After this small group conversation, David, Jerry Barker and several other past participants in the Fellows' Wilderness Expedition joined a different group of Caldwell Fellows for a small dinner where the conversation continued about the importance of leaving the urban environment and the lessons available to those willing to challenge themselves in the backcountry. The lively chat around the dinner table included the power and challenge of the Caldwell Wilderness Expedition with many chances for the students to ask questions and learn more about the experience.
We are grateful for David's commitment to the program and for taking the time to travel to Raleigh and share his experiences and expertise with our current Fellows.
Alumni: Please help us tap into the tremendous asset that 55-years' worth of life experience of our Fellows alumni represents, by sharing your time and perspectives with our students.  If you would like to consider giving back to the Caldwell Fellows Program by visiting Raleigh and spending an afternoon with our current students to share your own life and professional perspectives gained since graduating, please contact Chester Brewer, Associate Director, at ckbrewe2@ncsu.edu.