Newswire
Spotlight on our Alumni: Albert Whangbo '00
Albert Whangbo '00 graduated with a bachelor's degree in civil engineering from NC State and has been working in management consulting for nearly 18 years. He currently serves as a Principal at ZS Management Consulting.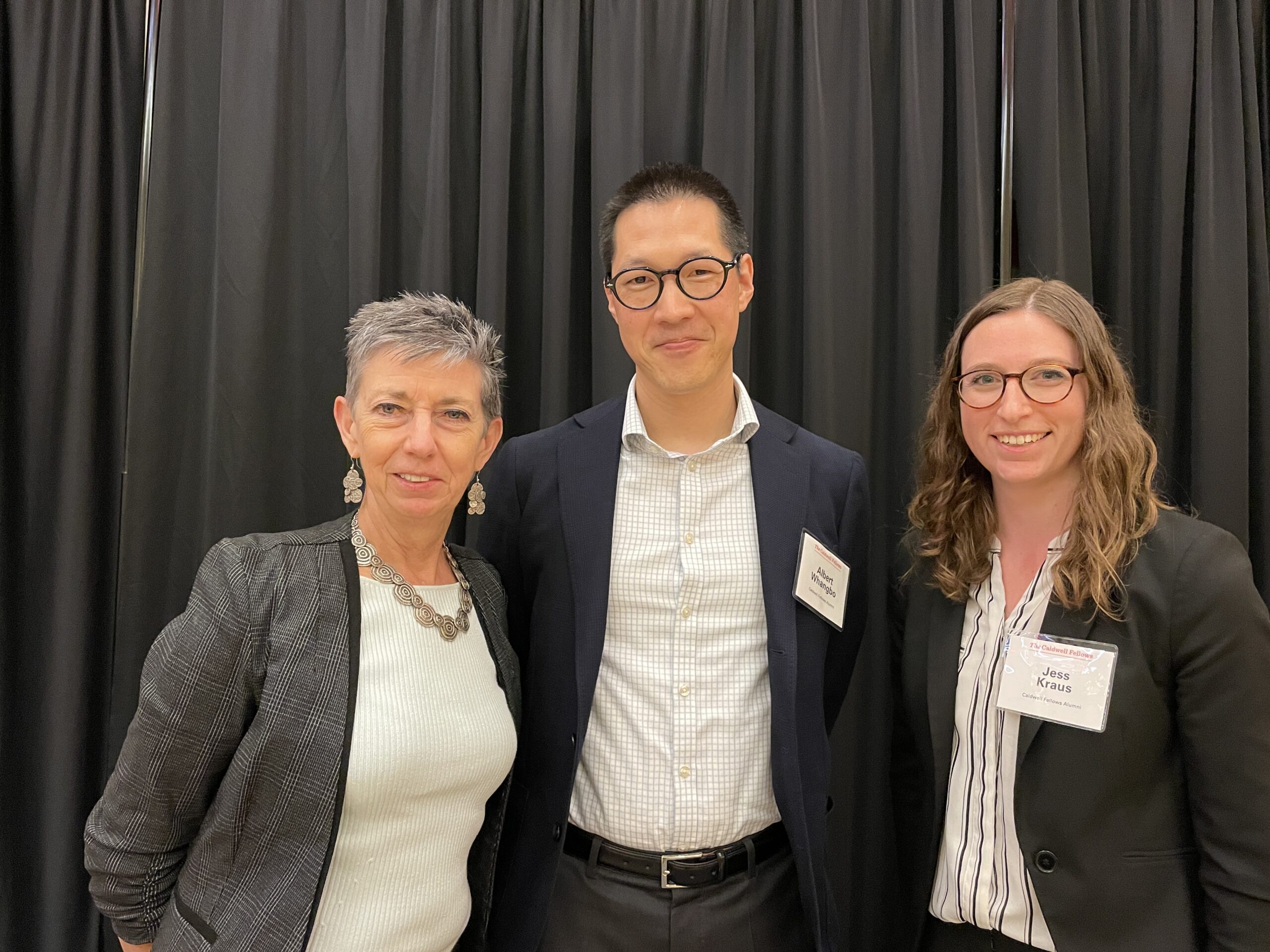 CF: Albert, first of all, thank you for making time to chat with us. Could you tell us, what being a Caldwell Fellows alum means to you?
AW: Sure! I moved back to the Triangle area a few years ago, which has allowed me to reconnect with the Caldwell community through events like the Dinner Seminar and Selection Days. Meeting the current generation of Caldwell Fellows and being able to share my experiences with them has been a wonderful reminder of the program's commitment to the idea of servant leadership – leadership that comes from helping others grow.
CF: What were some key lessons you integrated from your time as a Caldwell Fellow?
AW: When I first heard about servant leadership as a Caldwell Fellow many years ago, it sounded like a noble concept, but contradictory at the same time. My previous notion of leadership was that it needed to be highly visible, and that leaders needed to cultivate unshakeable convictions to be effective. How could someone both serve and lead? It took years of personal experience and working with some amazing mentors for me to fully appreciate the wisdom of what the Caldwell program was teaching. Leadership does require conviction – a conviction that there's a better way, and that we possess the means to find it. However the solution might come from anywhere or anyone, so we need to greet others with empathy, open ears, and an open mind. I try to remind myself of these lessons every day.
Leadership does require conviction – a conviction that there's a better way, and that we possess the means to find it.
CF: How do those lessons resonate in the work you do now? What is your leadership philosophy in your work and service?
AW: I've been working in management consulting for nearly 18 years. Currently, I lead one of my firm's practice areas, and I recently opened our office in Durham. I work with colleagues across the globe who represent a wide range of tenure and experience, but I put a disproportionate focus on our junior people. Our firm grows and thrives when our junior people can grow and thrive – when they have the confidence to learn, experiment, and practice the skills they need to take on bigger and more complex challenges. As a leader, I believe that part of my responsibility is to create growth spaces, and another important part is to step back and let people make those spaces their own.
In terms of leadership philosophy, I strongly believe that leaders need to have both hindsight and foresight: hindsight to reflect on lessons of the past, and foresight to create a vision to aspire to. Senior people have the capacity for more hindsight – they have had more time to make mistakes – but foresight can come from anywhere.
CF: What has been a challenging aspect of your career or life path?
AW: I have been extremely fortunate in my life and career! Of course there have been challenges, with the best ones being those that I chose for myself. At work we often talk about "living on a slope". The idea is that meaningful professional development comes from disrupting ourselves and climbing new learning curves from time to time. I have lived on several different slopes – when I transitioned from academic research to business; when I moved locations between New York, California, and North Carolina; when I took on new client-facing responsibilities; and now as the leader of our Durham office.
CF: How did your experience as a Caldwell Fellow prepare you for the experience of "living on a slope"?
AW: My Caldwell experience helped me prepare for big challenges by starting with small victories. I used my Caldwell stipend to take a photography course in New Mexico. I traveled there myself and was one of a very small number of young people in attendance. But it was a thrill for me to experience that independence and know that I could handle myself in that situation. Asserting a point of view in our Caldwell seminars and discussions was another great form of preparation. Overall, the Caldwell program helped me expand the boundary of how I perceived my own capabilities, which led me to embrace the idea of "living on a slope" I mentioned earlier.
CF: What advice would you give to current Caldwell Fellows about how to make the most of their time in the program?
AW: Do things that will challenge you to get outside your comfort zone – and trust that you will grow from those experiences. Build strong relationships by being vulnerable with one another, and having empathy for each other. And don't worry if some of the leadership concepts seem abstract and distant, as they did for me – eventually, it will all make sense!
CF: What is one unforgettable memory from your time in the program?
AW: One year, my class took a retreat near Winston-Salem. I vividly remember having some powerful conversations with my classmates as we opened up to each other and really came close together as a group. After such a wonderful and emotional experience it was a bit hard to come back to the real world of classes and Civil Engineering!
CF: Well, Albert, thank you so much for taking the time to chat with us. We really appreciate it.