Newswire
Caldwell Fellows at Shack-a-Thon 2023
Gabby Chiarenza `23 recently spent time interviewing her Caldwell classmates about the impact of servant leadership in their lives. Here's what she learned.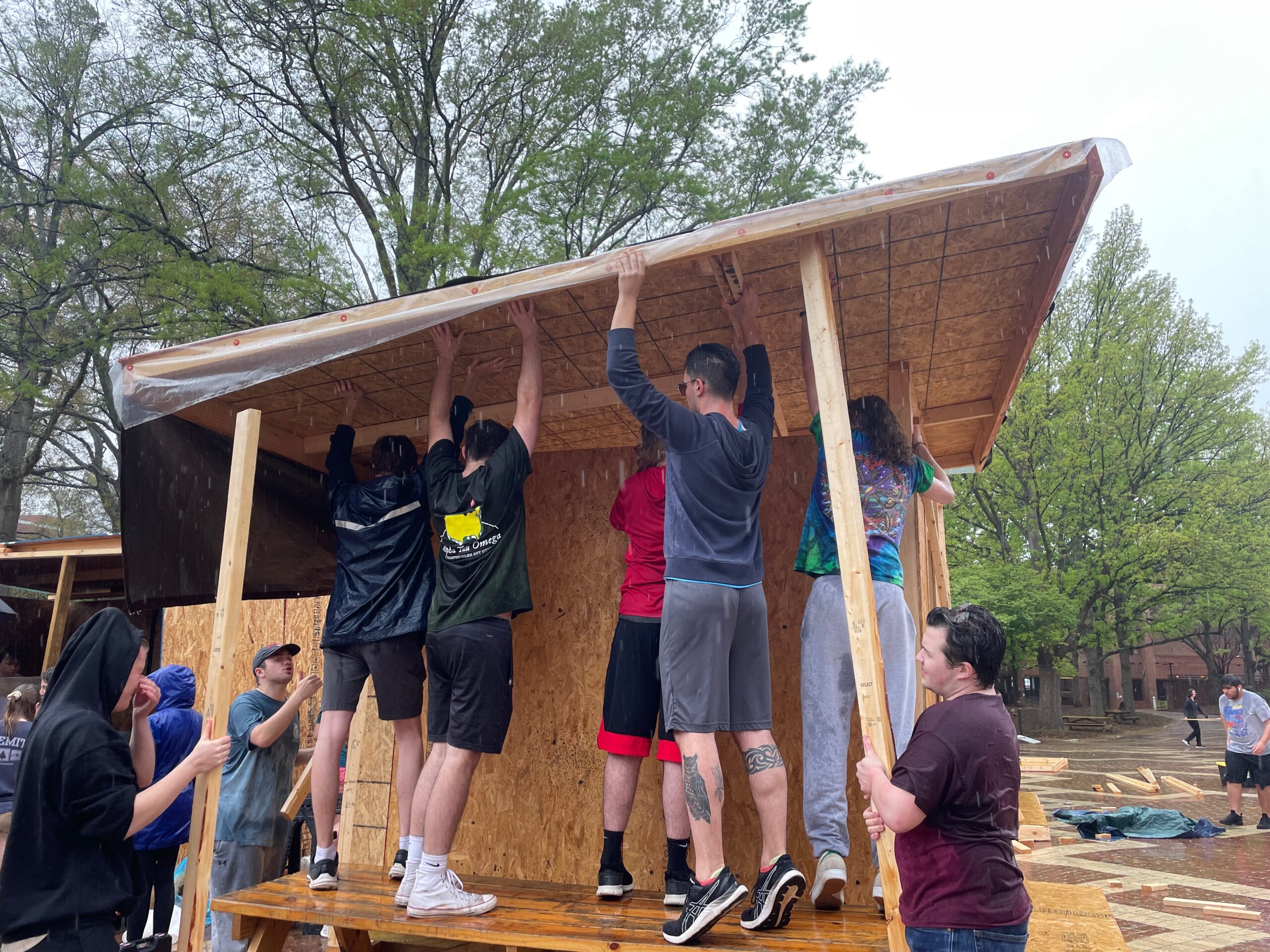 (This article was written by Caldwell Fellow Gabby Chiarenza `23. Our special thanks go out to her.)
It's not every day that you see a small neighborhood of wooden shacks spread out across the brickyard in front of D.H. Hill Library. Each has its own unique design, adorned with flowers, flags, and painted handprints. During the day, the brickyard buzzes with life as succulents are exchanged and students purchase hand-me-down, pre-loved books. At night, gentle conversations continue with warm blankets alongside the rhythmic thump of cornhole and music from a speaker nearby. It's not every day, but it is a special week that the students at NC State lovingly call: Shack-a-Thon.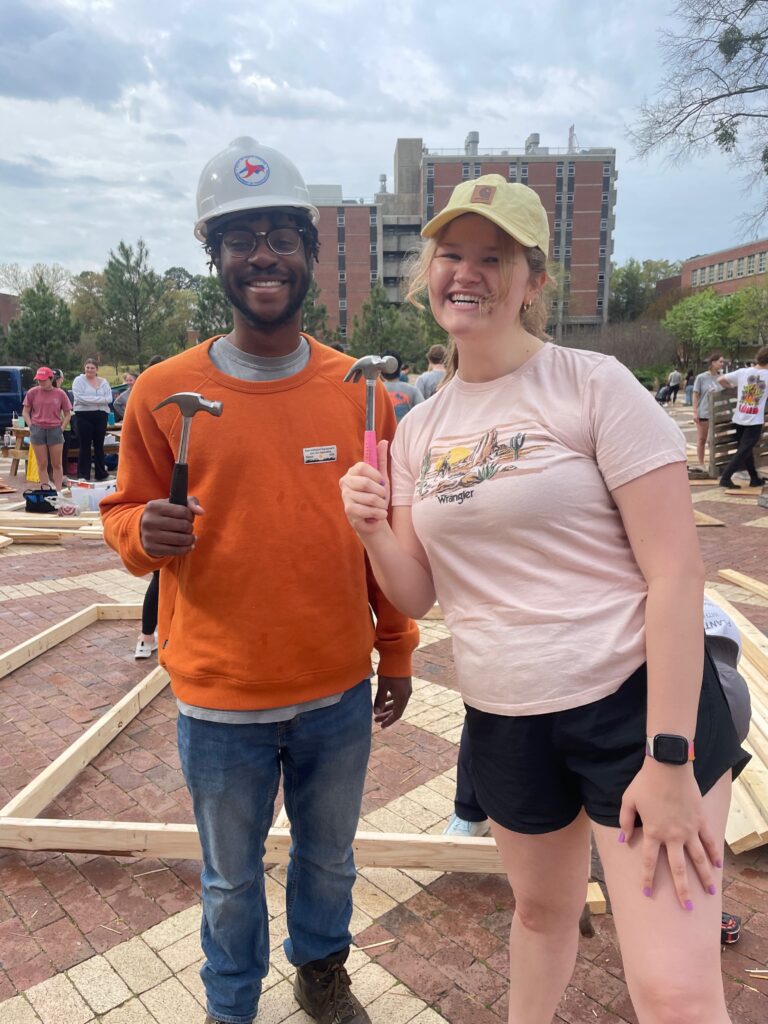 Shack-a-Thon is a tradition over twenty years old. The fundraiser was created by the Habitat for Humanity Chapter of NC State to raise money and awareness for affordable housing in Wake and Johnston County. Every year, students build a shack on campus and crew it for 24 hours a day for a week, raising money by both collecting donations and selling a variety of items to other students passing by.
The Caldwell Fellows have been participating in Shack-a-Thon for over a decade, and have raised the most money out of all the participating student organizations for five years in a row. It is a crucial part of the program's commitment to service and also an established relationship with Habitat for Humanity. Out in front of the Caldwell Shack for sale, there are plants donated from local nurseries, donated books wrapped for a "blind date", bracelets crafted with care, homemade cookies, and screen-printed tote bags displaying the name of the Caldwell Fellows. When items to sell run out, as they often do, Fellows get creative by selling "bad advice" or "naps in the shack."
Gabby Chiarenza `23, a fourth-year student studying English and Political Science, co-directs Shack-a-Thon alongside another fourth-year student, Kourosh Salamati `23. The two work with a team for months leading up to the Shack's actual construction. "Shack-a-Thon is my absolute favorite week of the year," Chiarenza says. "Not only do we get to do something really meaningful and impactful for our community, but we also get to strengthen our Caldwell relationships. There's something so special about walking up to the Shack and seeing so much life, seeing people laughing and smiling together at all hours of the day." With a bittersweet smile, she adds, "I've had some of my favorite memories of college at this Shack." 
There's something so special about walking up to the Shack and seeing so much life, seeing people laughing and smiling together at all hours of the day." ~Gabby Chiarenza `23
Caldwell Fellows build the shack themselves with wood donated to them by Habitat for Humanity (a prize that the prior year's winners receive) and their mismatched collection of hammers and hardhats. Once the Shack is constructed, Caldwells work 24/7 to fundraise for the cause. "It really is gratifying to see it all come together and to know that so many people want to help us succeed," Chiarenza says. "It's an evident display of how much the Caldwells have a genuine passion for service. Everybody is filled with so much energy, creativity, and ambition to help serve others. We really are such a special group and I'm so proud of everybody."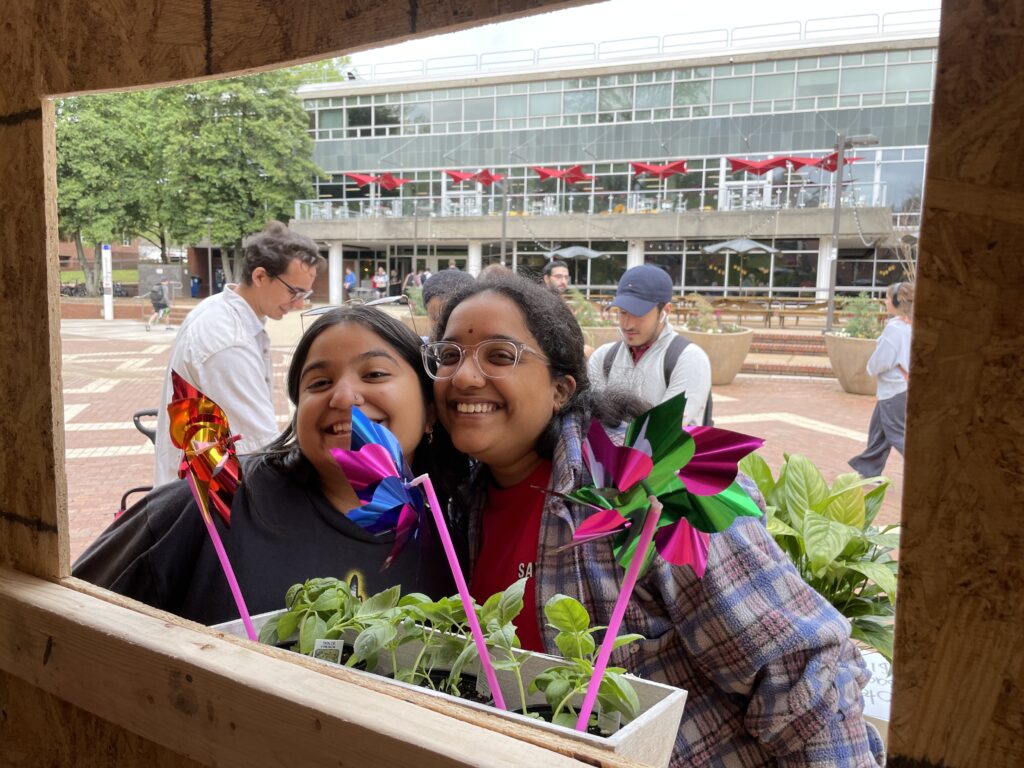 As the Caldwells take down their Shack during the event nicknamed "Whack-a-Shack", Chiarenza and Salamati prepare to pass the baton down to the third-year members of the team who will take over leadership next year: Anu Mishra `24 and Val Ryba `24. "I'm really going to miss being a part of Shack-a-Thon next year," Kourosh Salamati says, "But I'm very confident in Val and Anu. They're going to give a lot of love to the Shack next year."
Anu Mishra, one of the junior co-directors of Shack-a-Thon this year, reflected on her experience fundraising this year. "Shack-a-Thon is a way to promote togetherness and community within our program," Mishra says. "It's not only a great cause, but also an opportunity for all Fellows to come together for a week and meet new people they may not have met before. Supporting Habitat for Humanity in the process is just the cherry on top."  As the fundraiser comes to an end, the Caldwell Shack has proudly raised $5,211 (and counting) with every penny going towards Habitat for Humanity. In addition to fundraising, the week has been an opportunity for growth and development in servant leadership. "Shack-a-Thon is the embodiment of the Think Big mentality that the Caldwell Fellows have. It really shows that the leadership ideals we teach are used in our everyday lives."
Check out the photos below to see the life of the 2023 Caldwell Fellows shack from blueprints to final product.